---
Our Computer Recycling Services include Collection, Drop Off, Courier Collect and Data Destruction for the greater Sydney area.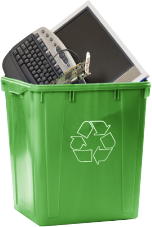 Collection & Recycling
At a pre-arranged time our friendly and professional staff will pick up your equipment and transport it back to our processing centre for recycling. All asset tags and identifiers are removed from equipment. Hard drives and storage media are assessed and any residual data wiped or physically destroyed. Any documentation that is present is also shredded in a commercial grade shredder.
For small quantities please ask about our budget 'Courier Collect' service.
Optional Services
– Remove items from workstations / clear whole floors
– Clear server rooms and / or store room
– Provide boxes and pack items ready for pick up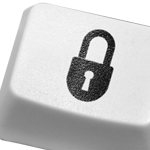 Collect and Data Clean
We offer extra paid services for data destruction on all Hard Drive types including IDE, SATA, SAS, SCSI and SSD. Wiped Hard Drives can be returned to customers or sent for recycling. For more information about why computer recycling is so important, read up about it here.
Optional Services
– Multiple pass wipe
– Degausing – use magnetic field to permanently destroy data on a hard drive
– Hard drive physical destruction
Collection, Cleaning and Reporting
Keeping track of assets is hard enough when they are purchased and deployed, it is even harder at end of life. After processing we are able to provide a report on assets collected including manufacturer, model and serial number to assist with removing end of life equipment from the asset register.
Optional Services
– Custom reports
– Certificate of Recycling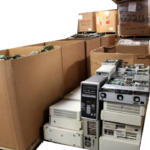 Office Clearance: End of Lease
Once an office has been vacated we are able to organise removal of IT & Communications equipment including data cabling and soft wiring ready to hand back to the landlord.
– Please contact to discuss a tailored solution for your business.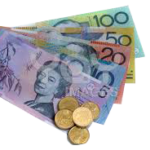 Asset Disposal
Optional Services
– Recycling / asset disposal consulting
– Equipment remarketing to your staff – an arms length solution for you