---
Drop off your electronic waste at our Sydney location. We accept residential and commercial quantities of e-waste at our recycling centre in Botany. Don't wait for a council collection – drop off today.
E-Waste Collection – From your business
We provide e-waste collections for all commercial and industrial areas of Sydney and surrounding areas. After booking an e-waste collection in Sydney our friendly and professional staff will pick up your e-waste at a pre-arranged time and transport it back to our processing centre for recycling.
Optional Services
– Dismantle or decommission equipment on customer site
– Provide boxes or bins prior to collection
E-Waste – Courier collect
For small quantities of electronic waste our budget 'Courier Collect' service allows you to package up a few items of e-waste for our courier to collect from your reception or front desk.
Optional Services
-Boxes and tape mailed to you prior to collection
Asset tags and identifiers are removed from equipment. Hard drives and storage media are removed from the device and data / drive destroyed for recycling. Paper documentation that is present is shredded in a commercial grade shredder and recycled.
Data security is crucial to all business however Government, Health and Military organisations have to be extra cautious. Extra paid services for data destruction on all hard drive types including IDE, SATA, SAS, SCSI and SSD are available. Wiped Hard Drives can be returned to customers for archiving or sent for physical shredding and material recycling. For more information about why computer recycling is so important, read about it here.
Optional Services
– Multiple pass wipe using security software
– Degausing; use magnetic field to permanently destroy data on a hard drive
Keeping track of assets is hard enough when they are purchased and deployed, it is even harder at end of life. After processing we are able to provide a report on assets collected including manufacturer, model and serial number to assist with removing end of life equipment from the asset register.
– Please ask about custom reports and/or certificate of recycling.
We have experience in clearing high volumes of equipment from commercial premises: data centres, offices and server rooms. Service includes removal of IT and Communications equipment, data cabling and soft wiring.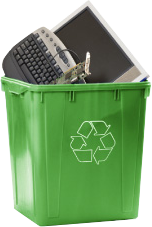 Contact us
for a tailored solution
for your business.